Mama Kat
has some great prompts this week for her Writer's Workshop at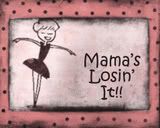 Head on over and pick a prompt to write on.
I picked 2 this week:

5.) Transcribe a recent entertaining conversation you recently had with someone.

We keep getting calls for couple of people who we've never heard of. The calls started 2 weeks ago. These people have been putting our phone number on forms and, if the number of calls from collection agencies is any indication, they owe someone a lot of money. The most recent call was Tuesday.
I answered the phone and a message comes on:
CA (Collection Agency)- Please hold for a very important call...........Bad musak plays.
CA- Yes, hello, is Carl Someone there?
Me- No, there is no one by that name at this number.
CA- Do you know how I can reach him?
Me- No, I've never hear of this person.
CA- Then how did he get your number?
Me- My guess is he must have just given a random number and just to let you know, this is the 3rd call I've gotten this week.
CA- Then you have heard of him before?
Me- No, not until I started getting calls for him. I'm also getting calls for another woman who has given out my phone number as well.
CA- Do they know each other?
Me- Since I've never heard of either of them before I got these phone calls, I have no idea.
CA- So you don't know these people?
Me- NO!!!!!!!
CA- Ok, I'll take your number off of this file then.
Me- Thank you so much.
CA- May I leave my number with you in case he contacts you.
Me- NO! Why would he contact me if he is making up a phone numbner to use to steal money or services he has no intention of paying for. My guess is if he gave a fake number, he gave a fake name and address too!!!!!!!!!!!! He's not going to call me!!!!!!
CA- Fine! and hung up!

What the heck!!! Can you say without a clue?????


1.) What does marriage mean to you?
Marriage to me means a relationship where both people give 110% to the other person. It means putting their needs before your needs, or trying to most of the time, and providing a safe, loving, and supportive place for them to be. If both people in the marriage do this then it is a beautiful thing, with both people getting what they need. The really big problems arise when one person becomes selfish and begins to think of their needs and their needs alone above all else. (Think about the person who prompted this prompt.) When this happens, the marriage relationship falls apart leaving destruction in its wake. I am sure that many will argue with this simplistic view on marital bliss but when I look back over the 28 years that I have been married to my wonderful husband, I can see clearly that the only times we have had problems is when selfish motivations were involved. Selflessness over selfishness is the key to a happy marriage. I also believe that a strong faith in Christ strengthens the commitment to a marriage and the vows until death do you part.