If you love to read as much as I do, there is a site that you really need to look into. I have been a member for almost 6 years and have swapped over 350 books, both sending and receiving.
It's a site called
Paperback Swap.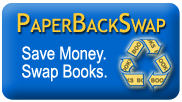 This is how to start:
First you set up a free account. No charge to join!!!
Post 10 books. It's really easy, you just type in the ISBN number from the back of the book and verify that it's the same title and version of the book that the system pulls up, click post and that title is then on your Bookshelf.
You can list any hardback, paperback or audio book on the site.

Once you've posted 10 books, PBS gives you 2 free start up credits (only to the first account in a household).
Here's how it works:
You get your two free credits from posting 10 books. One credit will order one book or 2 credits will order an audio book. You go on the site and search for a book that you would like to read. With over 4 million books listed, you should be able to find one you want. You can search for books by title, author, genre or by ISBN number. You click on ORDER this book and then you wait for the order to be accepted by a sender. The person who has had that title posted the longest will get the order. Once they say they will send you the book, they print out a mailing label, just a few clicks on the site and it prints out ready to wrap around your book and then THE SENDER pays the cost of ship it too you. One credit is removed from your account when you order the book. Once you receive the book, you let the system know that it arrived and the credit is given to the sender.
You get credits when someone orders a book from you and you pay to ship the book to them. You then use the credit to order another book. It costs around $2.50 to ship a book to another person.
If there is a new book that just came out and there are not any copies posted in the system, you click on +WISH and this adds the book to your wish list or as I like to think of it, t puts you on the waiting list for that book. That title will be offered to you when you are at the top of the list. It can take a while but if you consistently add books to your waiting list, you will regularly get them offered to you. Once you finish a book, you repost it and ship it out, getting another credit to order another book with. Youc an even add books to your wish list before they are published. As long as you can get the ISBN number (I use Amazon to get it) you can add it to your wish list and be one of the first in line for it.
If you compare how much I have spent shipping books to the cost of buying all of the books from a used book store for $4.50 each, I have saved over $750. If I had bought all of the books I have gotten new, I would have spent more than $1500 over my shipping costs. It's a wonderful way to read lots of books for an economical cost.