It's Tuesday already??!!! Time is moving too fast. I need it to slow down. If you want a great laugh, head over to the
Unmom
for some hilarious bits of her randomness.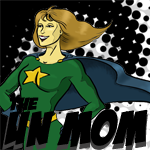 I am so excited for the holidays. Excessively so, I think. I can hardly wait to start decorating for Christmas. Usually I like it, but I really want to get started on it this year. My daughter, refuses to allow any Christmas to be put up until after Thanksgiving is over so, I have been trying to sneak little things up without her noticing. I wonder if she'd notice if I got one tree up. I usually have 5: 2 small, 2- 7' and 1-9' . I bet she'd notice a 7 footer going up but maybe not the 4'????
I am working away trying to get my daughter's fiance's Christmas stocking knitted. I got it 3/4 of the way done before noticing that I had somehow flipped it in my dyslexic brain and it was an exact mirror image of what it was supposed to be. I had to rip it all out because to complete it would have made his stocking hang the opposite way from the rest of the families. Nothing says welcome to the family more than your stocking being the only one facing the wrong direction- NOT. So I started over and really need to get it done.
My best friend and I run quite a few of our errands together. A couple of times a week, we'll plan our errands and go run them together. The grocery store, Walmart or Target, wherever we need to go, we just go together and talk as we shop and drive. Do you do that or are we the only ones making our own fun out of boring tasks?
Oh, my son did clarify that his house of guys has eating dishes just not serving dishes. Serving dishes are for girl's houses.
See yesterday's post for the entire funny story.
The boys got home yesterday for Thanksgiving and it's so nice to have some of my kids home for even a few days.
Last night three of them were using my camera to take multi-shot photos of themselves doing silly things. My kids were never bored when they were little, they just played and made up stuff to do. Now, take into account they are now 23, almost 24 and 18. Like I said, never bored. I didn't say grown up.
How's this for a random activity? They did this for 2 hours!!! Hard to believe that the one in the blue shirt has a degree in atmospheric science and geography and is a music pastor at a church, the guy in the white shirt is our adopted son who just got out of the Marines and is a finance major and our daughter is an honor's student in high school. They definitely are from my side of the gene pool. They were very entertaining to watch and the big bonus- no broken bones, just a few bruises.

Have a Happy Thanksgiving and start getting those Holiday Recipes ready to post on your blogs for the 25 days of Christmas Recipes' Exchange and the 25 days of Christmas Cookie Recipes' Exchange. It starts this Friday.